Cart: Shipping
After you review the contents of the cart, the next step is to select a delivery method and indicate where the order is going.
Notes:

● The shipping step does not apply to all products, for example, digital downloads or CMM campaign activities. If the cart includes a mix of products, some of which are shipped and some that are not, you will need to provide shipping information.

● On some sites the shipping step does not apply at all; the shipping method is pre-selected for you.

● Sometimes the prices displayed for the subtotal, shipping, taxes, and/or handling are estimates as indicated by *Estimated next to the line item. The final amount is calculated when your order is completed. If you are paying by credit card, you are charged this final amount, which may not be the same as the estimated amount.
1.        Select a shipment type (delivery method).
2.        If shipping your order, do one of the following:
●         Enter an address. If you want this address included in your address book, select the Save to My Address Book check box.
●         Click Add from Address Book and select someone from your address book.
3.        If necessary, enter Delivery Instructions (up to 200 characters).
4.        Click Save.
5.        If you want to ship the order to more than one place:
a.        Move the pointer over Add Another Recipient.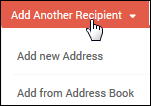 b.        Select Add New Address and enter the address or Add from Address Book and select the address you want.
c.        If necessary, select a different shipping method and then click Save. (Until you click Save, the quantity fields for an additional recipient are not displayed.)
d.        For each recipient, enter the quantities of the items that you want to send and then click

to update the total price of the order.

e.        Repeat these steps for any additional shipments you want to make.
Note: If you change your mind about sending items to a particular recipient, click Remove this Recipient.
6.        Click Proceed to Payment to continue to the payment page.